1. Quality control process
a. Every production process is directed by one skilled and experienced worker.
b. We make detailed working introductions with pictures and texts for each process. It is very convenient for workers to learn production.
c. After finishing one process, we will use specialized instruments to inspect the quality of the products to prevent the inferior product from transmitting to the next process.
d. In the entire production process, we formulate several separated key parts for inspection to keep all the operations consistent with the working introductions.
e. Every finished product is attached with a piece of tracking card, on which the serial number of the worker in charge of each process is recorded. It is easy for subsequent tracking.
2. Inspection on finished products
a. Every finished camera needs to experience the aging test lasting for 48 hours.
b. For every 1000 pieces of finished products, we will offer a causal selection for high and low temperature test or destructive test.
c. 10% finished products should be inspected by vibration test.
d. All the testing result will be recorded for later tracking.

2.1 High and Low Temperature Test
High and low temperature testing equipment

2.2 Vibration Test
In order to avoid any trouble in the delivery, we usually select 10% equipment for vibration test, which reproduces the mostly possible situations in logistics progress. The product that passes the test can be delivered.

2.3 Microscopic Dustless Inspection Table
This device specializes in inspecting the micro dust on the CCD or IR cut filter and it is used to select the optimal materials and parts.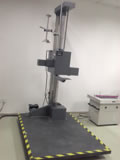 2.4 Drop Test
Every package designed for new product needs to pass the designated drop test firstly so as to imitate the possible drop that may happen to the product during delivery. After the packed product is forced to drop on the hard and even horizontal surface from the regulated height, we will evaluate its capability of bearing the vertical impact and the ability of the package to protect the internal product. This is called the drop test.

2.5 Weatherproof Test
To make sure that our weatherproof product can withstand all weather conditions, we utilize the specialized rain test chamber in purpose to make tests in various analog water spraying situations that the product may meet mostly in the operation. Only the product that complies with the standard is allowed to leave the factory.
Main Products